Blooming Onion Recipe in Telugu | ఉల్లిపాయ స్నాక్స్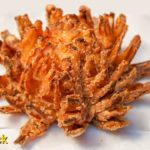 Blooming Onion Recipe Preparation | Crispy Blooming Onion Recipe in Telugu
How to make Blooming Onion Recipe in Telugu. Evening Snack Recipe with onions
Ingredients
1

pc

 Onions

1

cup

Bengal gram flour

1/2

cup

Rice flour

1/2

tsp

Chilli powder

1/2

tsp

 Salt
Soda
Turmeric powder

1/4

tsp

 Cumin seeds

1/4

tsp

Ajowan
Recipe Notes
BLOOMING ONION
Lets see how to make a blooming onion
Blooming onion is an onion, cut into a flower, egg washed, dipped in flour and deep fried
We will see how to make an Indian version of a blooming onion
We will be using bengal gram flour batter here.
Take a full onion
Cut off the top root part of the onion. Cut a little off the bottom also
Peel an wash the onion
Flip the onion, so that the 'root' part is on top and make cuts in the knife from top and bottom
Make the onion into 4 parts and put 2 more intermediate cuts between each part
Remove the inner middle part and separate the flowers
To a mixing bowl, add 1 cup bengal gram flour, 1/2 cup rice flour, 1/2 teaspoon chilli powder, 1/2 teaspoon salt, a pinch of soda, a pinch of turmeric powder, powder of 1/4 teaspoon cumin seeds and 1/4 teaspoon ajowan and mix
Any other spices also could be added if desired
Add water to the mixture and make it into a batter
Don't make it too runny or else it wont stick to the onion
Dip the prepared onion into the batter and place the onions on a spoon
Adjust the petals and place this onion into hot oil
Fry on low-medium flame
Flip after a couple on minutes
Flip and fry till the onion turns brown
Serve hot!
Subscribe to our YouTube Channel Hyderabadi Ruchulu for more latest and interesting cooking videos in Telugu