Carrot Bobbatlu Preparation at Home in Telugu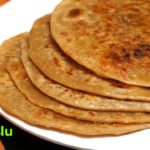 Carrot Bobbatlu Recipe | Carrot Poli Bobbatlu Recipe
How to Make Carrot Bobbatlu Recipe . Preparation of Carrot Paratha Recipe
Ingredients
1

cup

Grated Carrots

1

cup

wheat flour

1/2

cup

Grated Jaggery

3

tbsp

Coconut Powder

1/2

tsp

Cardamom Powde

Salt
Recipe Notes
CARROT BOBBATTU
Let's see how to make carrot bobbattlu
These are very tasty and healthy
Firstly, we have to prepare dough for the sweet stuffed chepathi
To a bowl, add 1 cup wheat flour, a pinch of salt and mix
Add water and knead it into a very soft dough
Add 2-3 teaspoons oil and knead
Let it sit for 30 minutes
Close lid and put it aside
Let's prepare the stuffing now
Heat clarified butter (ghee) in pan
Add grated carrot and fry for 5-6 minutes
Add grated jaggery and cook on low flame
Cook till the mixture hardens and add coconut powder
Coconut powder is optional
Add cardamom powder and mix
Stuffing is ready now
Cut off the stove and let it cool down
Make round balls out of the dough and press it into small puris.
Similarly, make balls out of the stuffing
Spread some oil on a plastic wrap or cover
Stuff the filling and remove the excess dough.
Press the stuffed dough evenly on all sides on the cover.
Heat 1/2 teaspoon clarified butter (ghee) on a pan.
Oil or clarified butter (ghee) could be used.
Hold the cover with one hand and remove the pressed sweet chepathi with the other hand. Cook on medium flame.
Spread clarified butter (ghee), cook for 2-3 minutes and flip it.
Cook till it turns light brown.
Serve hot.
Subscribe to our YouTube Channel Hyderabadi Ruchulu for more latest and interesting cooking videos in Telugu