Challa Mirapakaya Recipe Preparation in Telugu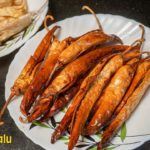 Challa Mirapakayalu Recipe | Majjiga Mirapakayalu Recipe in Telugu
Learn How to Prepare Challa Mirapakayalu Recipe. Preparation of Majiiga Mirapakaya Recipe
Keyword:
Challa Mirapakayalu Recipe
Ingredients
1

kg

Green Chillies

Curd

200-250

gms

Salt
Recipe Notes
CHALLA MIRAPAKAYA
Lets see how to make challa mirapakayalu
They are a great combo with dal, sambar or rasam
Since we have to dry these challa mirapakayalu in the sun, it is better to make them in summer
Challa mirapakayalu are made bu soaking green chillies in butter milk
It's better to use bigger green chillies
Wash the green chillies and put cuts in them
Add some water to curd and beat it
For 1 kg green chillies, we will need 200-250 grams of salt
Here I used rock salt. Regular salt also could be used
Add salt to the prepared butter milk and put it aside for 10 minutes so that the salt melts completely
Place the prepared green chillies in a glass bowl or a plastic container
Don't use any steel or metal containers
Now, pour the butter milk over the green chillies till they are immersed completely
Let them soak for a minimum of 24 hours
They can be soaked for upto 3 day
Close lid and soak the green chillies
Its time to dry them now
Take a plate and place aluminium foil or cling wrap on it
Now, take the green chillies out of the butter milk
Put them on the plate and dry them in the sun for a day
Close the lid of butter milk container and put it aside
Next, put the dried up green chillies back in the butter milk overnight
Dry the green chillies in the sun again
Repeat the process for 3 days
Use the same buttermilk from the first day for all 3 days
Now, dry the green chillies in the sun till they become completely dry
It will take upto a week for the green chillies to dry completely
Dry the green chillies everyday till they become crispy
Store them in an air tight container. They can be used upto a year if dried every few months
Lets fry the green chillies now
Heat 3-4 tablespoons oil in pan
Fry the prepared challa mirapakayalu till they turn brown
Serve hot as a side dish with sambar or rasam rice!
Subscribe to our YouTube Channel Hyderabadi Ruchulu for more latest and interesting cooking videos in Telugu