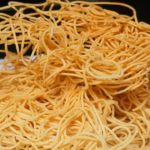 Crispy Fried Noodles
Crispy Noodles preparation at Home. Homemade taste Crispy Fried Noodles preparation for Kids. Most of People's Favorite Food.
Ingredients
Instant Noodles

Water

1

tsp

Salt

Oil

1

tbsp

Corn Flour
Recipe Notes
Crispy Fried Noodles
Fried Noodles Preparation at home in simple method. Crispy Noodles are usually serve with soup in Restaurants. Crispy Fried Noodles are the Kids Most Favorite Food. Here We show easiest Method of Preparing Noodles at Home. They Could be Store upto 1 month.
How to Make Crispy Fried Noodles at Home
Preparation of Noodles in Telugu
Any Instant Noodles Could be used for Crispy Fried Noodles Recipe.
Take pour water in a bowl.
Boil the water.
Now Add 1 Teaspoon of Salt and 1 Teaspoon of Oil.
Mix it well.
Now add the Noodles and Boil for 3-4 Minutes.
Stir after 2 minutes.
Cook till the Noodles are 70% Cooked. And Drain off the water.
Immediately pour cold water over the Noodles.
Then Drain off all Water.
Now, place this Noodles in a wide plate.
Let it Dry for 15-20 minutes.
Make sure that there is No Water left, since we have to Deep fry these Noodles later.
Flip the Noodles after sometime.
Noodles are Ready.
How to Make Homemade Crispy Noodles
Sprinkle 1 Tablespoon of Corn flour over the Noodles.
This will Absorb any leftover moisture in the Noodles.
Corn flour can be Skipped if you feel that the Noodles are Dry enough.
Deep Fry the Noodles now.
Heat the Oil for Deep fry.
Take a Bigger pan, since the oil tends to bubble up after we add the Noodles.
Now Fry the Noodles.
Don't stir the noodles after putting them in Oil.
Let them fry for 2-3 minutes and then move them.
Cook on medium flame till they turn into Crispy.
Fry till they turn light brown / golden colour.
And move them into a paper napkin plate.
Tasty Crispy Fried Noodles are Ready to Serve.
They could be used for upto 1 month if stored in an airtight container.
Subscribe to our YouTube Channel Hyderabadi Ruchulu for more latest and interesting cooking videos in Telugu