DONDAKAYA 65 RECIPE
Tindora is one of the healthy veggies and is very popular in south India. It is more famous by the name Dondakaya. In this article we are going to explain the process of Crispy Dondakaya 65.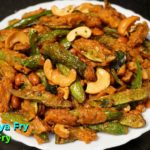 Dondakaya Fry | Tindora Fry| Dondakaya 65
How to Prepare Tindora 65 Recipe in Telugu
Ingredients
1/4

kg

Tindora

2

tbsp

Bengal gram flour

2

tbsp

Corn Flour

1

tsp

Chilli powder

3/4

tsp

Salt

1/2

tsp

Coriander seeds powder

1/2

tsp

Ginger garlic paste

2-3

tbsp

Groundnuts

Cashewnuts

1/2

tsp

Mustard seeds

1/2

tsp

Cumin seeds

2

pcs

Dried chillies

Curry Leaves

Garlic cloves
Recipe Notes
DONDAKAYA 65
Let's see how to make tindora 65
This is a very tasty snack and can be easily made with simple ingredients
Here I used 1/4 kg tindora
Slice them into 4 long pieces
Move them into a bowl
Add 2 tablespoons bengal gram flour, 2 tablespoons corn flour, 1 teaspoon chilli powder, 3/4 teaspoon salt, 1/2 teaspoon coriander seeds powder, 1/4 teaspoon cumin seeds powder, 1/2 teaspoon ginger garlic paste, any other desired masala and mix
We don't need to add water since, there is already water content present in the tindora
If the mixture seems too dry, only then add 1 or 2 tablespoons water
Heat oil for deep fry
Fry the tindora pieces one by one on high flame
Move them into a different plate as they turn brown
In the same pan, heat 1 tablespoon of the same oil
Add 2-3 tablespoons groundnuts and fry
Add a few cashewnut pieces if desired
Fry for a minute and add 1/2 teaspoon mustard seeds, 1/2 teaspoon cumin seeds and mix
Add pieces of 2 dried chillies and mix
Add curry leaves and fry till they turn crispy
Add coarsely grinded garlic cloves and mix
A pinch of salt could be added if desired
Add deep fried tindora pieces and mix
Toss for a minute and cut off the stove
Tindora 65 is ready to serve!
For more Interesting Healthy Food Recpies in Telugu, Please Subscribe Our Youtube Channel Hyderabadi Ruchulu