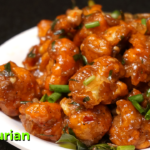 Learn a quick and easy way to make Gobi Manchuria at home
Gobi Manchurian is a spicy dish that is often sold by Indian Street Food vendors. Here, you can learn to cook gobi manchurian at home easily.
Ingredients
1

Cauliflower

3

tbsp

All Purpose Flour

2

tbsp

Corn Flour
For Sauce
1

tbsp

Corn Flour

1/2

cup

Onions

2

tbsp

Garlic Cloves

1

tbsp

Tomato Ketchup

1

tsp

Soya Sauce

1

tsp

Vinegar

1

tsp

Soya Sauce

1

tsp

Pepper Powder

2

Green Chillies

1/2

cup

Spring Onions
Recipe Notes
Gobi Manchurian is a snack made by deep frying cauliflower florets coated in a spiced batter. These crispy florets are then covered with a sweet and spicy Chinese gravy adapted to Indian tastes. In our Hyderabadi Ruchulu channel you can learn how to cook street style Gobi Manchurian at home with clear step by step instructions in Telugu.
Gobi Manchurian Preparation
To a mixing bowl,
add 3 tablespoons all purpose flour and 2 tablespoons corn flour
Add 1/4 teaspoon salt, 1/4 teaspoon pepper powder and mix
Add water and mix it to a loose batter
Food colour could be added here
Soak cauliflower florets in salt water for 10 minutes and add them to the batter
Heat oil for deep fry
Put the stove on medium flame and add the florets one by one to the heated oil
Fry for 5 minutes and flip
Flip and fry till they turn golden brown
Sauce Preparation
Heat 1 tablespoon oil in pan.
Add chopped garlic cloves and fry for a minute
Add chopped onions and fry till they turn transparent
Add green chillies, curry leaves and fry
Add 1/2 teaspoon pepper powder, 1 teaspoon salt or salt to taste, tomato ketchup, 1 teaspoon soya sauce, 1 teaspoon vinegar and mix
Add 1 tablespoon corn flour to a bowl of water and mix
Add this corn flour mixture to the pan and mix
Add water if desired
Add spring onions and mix
Add the fried cauliflower florets and mix
Fry for a minute and cut off the stove
Serve hot!