Homemade Curd Chocolate Candy Recipe Preparation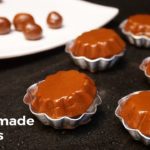 Home Made Candy Recipe | Home Made Curd Choclate Recipe
How to make Quick and Easy Candy Recipes Make at Home
Course:
Festival Special Sweets, Snack, Sweets
Keyword:
Home Made Candy Recipe
Ingredients
1

cup

Curd

3/4

cup

Sugar

2

tbsp

Clarified Butter (Ghee)
Recipe Notes
HOME MADE CANDY
This Home-made candy is very easy to make.
Only 3 ingredients are used here - Curd, Clarified Butter (Ghee) and sugar
The process is very easy
To a non stick pan, add 1 cup curd
Add 3/4 cup sugar, stir and simmer
The sugar will melt and the curd will become thin
Stir and simmer till the curd becomes thick
As the curd starts to become thick, add 1 1/2 tablespoon Clarified Butter (Ghee) and mix
Cook on low medium flame till the mixture becomes thick and changes colour to brown
Simmer till it turns dark brown
Use chocolate moulds, here I used metal moulds to shape the chocolates. It is better to avoid plastic since the surup is very hot
Any other steel/metal bowls could be used instead
Spread Clarified Butter (Ghee) on the moulds and pour the prepared mixture in them
These will become hard after they cool down
If there are no moulds or bowls available for you then they could be hand mould also
Spread Clarified Butter (Ghee) on a polate and let it cool down a little so that we can shape them
After it cools down a little, spread Clarified Butter (Ghee) on your palms, take a small amount of prepared mixture and roll it into balls of desired size and shape
Don't let the candy cool down too much or it will harden
If the candy becomes too hard, heat the mixture again a little.
The candy will take 15-20 minutes to cool down
Home made candy is ready!
Subscribe to our YouTube Channel Hyderabadi Ruchulu for more latest and interesting cooking videos in Telugu