How to make Idli Rava Recipe in Telugu at Home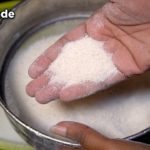 Home made Idli Ravva Recipe |
Recipe Notes
BIYYAM RAVA
Lets see how to make idli rava at home easily
Here I used 1 kg rice
Any type of rice could be used here
Wash the rice 2-3 times and soak for a minimum of 2 hours
The longer it is soaked, the better it will be
Here I soaked this rice for 4 hours
Drain off all the water and dry it on a cotton cloth
Let it sit till the rice becomes completely dry
It will take around 2-3 hours for it to dry
You could dry them under a fan inside or in the sun
We can see that rice is dry now
With this rice, we can make rice flour, bombay rava, upma rava, etc
Fill upto more than half of the mixie jar with the rice rava
Don't run the mixie jar cuntinously
Just whip it or else rice will turn it into a flour
Whip it a couple of times
Now, strain this prepared mixture using a strainer with bigger holes
So first, we will get the bigger granules for upma rava and the flour will be separated
Whip the rest of the rice this way and strain all of it together
So now, we will get rice flour, rava for idli and rava for upma
Strain the left over part with a smaller hole strainer to seperate the idli flour
Then, strain the mixture again with flour strainer to seperate idli rava and rice flour
Here we got a little bit of rice flour. This flour can be used to make attu, etc
Idli rava and upma rava are ready!
They can be used to make vadiyalu, upma, idli and so much more!
Subscribe to our YouTube Channel Hyderabadi Ruchulu for more latest and interesting cooking videos in Telugu