Kakarakaya Curry Recipe Preparation in Telugu
In this article, let's know about the detailed preparation of Kakarakaya Curry Recipe or Bitter Gourd Curry. This Special Bitter Gourd Curry would be of zero bitterness.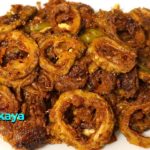 Kakarakaya Curry Recipe | Bitter Gourd Recipe in Telugu | Kakarakaya Pulusu
How to make kakarayaka pulusu with tamarind
Ingredients
1/4

kg

Bitter Gourd

3

pcs

Onions

7-8

pcs

Dried Chillies

2

tsp

Sesame Seeds

2

tsp

Coriander Seeds

1 1/2

tsp

Salt

9-10

Garlic Cloves

1

tsp

Cumin Seeds

1

tsp

Ginger Garlic Paste

1/2

tsp

Turmeric Powder

5-8

grams

Tamarind

2

pcs

Green Chillies
Recipe Notes
KAKARAKAYA CURRY
Let's see how to make Bitter gourd curry today
This is a very different kind of bitter gourd curry. This curry won't be bitter at all
This recipe is called bitter gourd curry, garlic-chilli bitter gourd curry, etc.
Wash and slice the bitter gourd pieces into circular pieces
Remove the bigger seeds inside.
We have to prepare masala first
Heat pan
Add 2 teaspoons coriander seeds and fry
Add 1 teaspoon cumin seeds and fry
Add 2 teaspoons sesame seeds and fry
Fry dried chillies till they change colour
As dried chillies start colour, move it into a plate
Let them cool down now
In the meantime let's fry bitter gourd slices
Here I deep fried the slices
This is to remove the bitterness from the pieces
This step can be skipped
There are different methods to reduce the bitterness of the bitter gourds like – soaking them in salt solution, boiling them in butter milk, etc
Any one of the processes could be used here
Here I deep fried the slices
Heat 4-5 tablespoons oil in pan
Add bitter gourd slices and fry till they turn light brown
Salt or any other ingredients are not be used here
Move the fried pieces into a bowl
Add the previously fried seeds to a mixie jar along with garlic cloves, fried dried chillies and 5-8 grams tamarind
Grind into a fine powder
Let's marinate the bitter gourd pieces now
To the bitter gourd pieces, add 1/2 teaspoon powdered jaggery. This is to furthur reduce the bitterness
Adding jaggery is also optional
Add prepared masala powder, 1 teaspoon salt or salt to taste and let it sit for 10 minutes
Take 2 teaspoons of the oil used to fry bitter gourds
Add chopped onions and fry
Add onions generously since they make up the gravy part of the curry in this recipe
Fry till onions turn brown
Add green chillies and fry
Add salt if desired
Add 1 teaspoon ginger garlic paste, 1/2 teaspoon turmeric powder and mix
Fry for a minute and add marinated bitter gourd pieces
Mix and taste it for salt and chilli powder
Fry 2-3 minutes on low flame
Serve with roti or rice!
Subscribe to our YouTube Channel Hyderabadi Ruchulu for more latest and interesting cooking videos in Telugu
Also Check :