Masala Jonna rotte Preparation at Home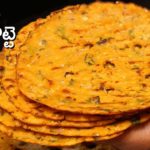 Masala Jonna Rotte Recipe | Jowar Roti Recipe
How to Prepare Healthy Jonna Rotte Recipe. Healthy Breakfast Recipe For Kids
Ingredients
2

cups

Maize Flour

1/2

cup

Wheat Flour

1

pc

Onions

Grated Carrot

2-3

pcs

Green Chillies

1/2

cup

Coriander Leaves

2

tbsp

Sesame Seeds

1

tsp

Cumin Seeds

Salt
Recipe Notes
MASALA JONNA ROTTE
Let's see how to make masala maize roti today
Even people who don't know how to make maize roti will be able to make this
Here I took 2 cups maize flour and 1/2 cup wheat flour
Wheat flour is not compulsary
Other flours like rice flour could be used or it can be skipped
Firstly, to a mixing bowl, add finely chopped onions, grated carrots, 1/4 cup coriander leaves, finely chopped curry leaves, 2 to 3 finely chopped green chillies, 2 tablespoons seasame seeds, 1 teaspoon cumin seeds, 1 teaspoon salt or salt to taste and mix.
Mix and add 2 cups maize flour.
Here I also added half cup wheat flour.
Any other flour of your choice could be used or only maize flour could be used.
Mix and add lukewarm warm water.
Add the water slowly and knead it into a dough.
Don't make the dough too hard
Take a small amount of dough and roll it
Press it lightly
Take a pan, here I took a nonstick pan.
We don't need to use much oil if we use a nonstick pan
Don't pre-heat the pan
Spread oil in the pan and place the prepared dough on it
Spread the dough all over the pan by pressing it with your hands
Keep wetting your hand so that the dough doesn't stick to your hands
After a spreading the dough all over the pan make holes in it
Now place this pan on the stove
Cook on medium flame and pour some oil into the holes
Close lid and cook for 2 to 3 minutes
We can see that the edges are properly cooked, flip it now and spread some oil if desired
Cook for two more minutes and flip it again
Flip and cook till it becomes crispy
Masala Maize Roti is ready to serve!
This Roti can be served as it is or served with some chutney or curd
So the masala maize Roti is ready now but don't make another one immediately over the hot pan
Let the pan cool down completely before you make another Roti or use two pans and make the rotis alternatively in each pan
This means that while one pan is on the stove another one will be cooling down on which you can make anther roti in the mean time
Subscribe to our YouTube Channel Hyderabadi Ruchulu for more latest and interesting cooking videos in Telugu
Also Check :