How to Prepare Munagaku Soup Preparation in Telugu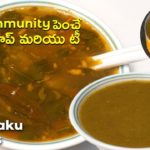 Munagaku Soup Recipe | DrumSticks Leaves Soup Recipe
Learn How to make Munagaku Rasam Recipe in Telugu. DrumSticks Leaves Soup Recipe
Keyword:
Munagaku Soup Recipe
Ingredients
1

cup

Moringa/ Drumstick leaves

2

tsp

Coriander Seeds

1

tsp

Cumin Seeds

3/4

tsp

Black Pepper

4-5

pcs

Garlic

1

tsp

Ghee / Oil / Butter

Ginger

1

pc

Onion

2

pcs

Tomatoes

1/2

tsp

Turmeric powder

2

pcs

Bay Leaves

1

pc

Green Chili

Salt
Recipe Notes
Munagaku Soup
Let's prepare a healthy and a different kind of soup today with Moringa Leaves.
We can cook two different styles of soups and also Tea.
Moringa leaves contains a variety of proteins, minerals and vitamins.
It has medicinal properties , so beneficial to our health.
Better we add this to our daily diet.
come lets see the 1st method of preparing it.
Method of preparation-
coarsely grind Coriander seeds , Cumin seeds , Pepper , Ginger and Garlic.
Now will heat oil in a cooker and add the coarsely ground ingredients along with moringa leaves..
will also add onion and tomato pieces to it and fry.
Fry it till tomato pieces becomes soft.
Add turmeric powder and bay leaves n fry for a moment.
now will add required amount of water and a green chili.
Place the lid and pressure cook it till we get 4 to 5 whistles.
Let it cool , and open the lid.
Just check to know the taste , if required we can add salt and pepper.
Strain it , to make a clear soup.
so, here is our healthy , tasty and hot soup.
Add a ting of lemon juice to it and have it.
Now will try the next method of cooking it .
this method is more tastier and healthier.
We can use the same ingredients which I have mentioned above.
Here we use Green gram or Toor dal.
Method for preparing it.
Take the cooker and add thoroughly washed Moringa leaves
Add 1 chopped tomato.
will add 4 to 5 Garlic cloves to it.
put 2 teaspoon of Coriander seeds.
Now will add 1 teaspoon of Black Pepper and a teaspoon Cumin Seeds .
finely chopped green chili.
Now will add 2 tablespoons of green gram or Toor dal , which ever you wish to.
It adds more proteins to the soup and also thickens the consistency.
put 1/2 teaspoon of turmeric powder and 3 cups of water.
Place the lid and will pressure cook it till 6 to 7 whistles.
Let it cool-down , then will open the lid.
we can see it thoroughly cooked , we can strain it and have it.
To make it more tastier will grind the strained ingredients in a mixie jar.
When we grind it we need to 1/2 a glass of water.
Now will mix both the grounded mixture or the paste and the soup or which we strained prior grinding the ingredients.
after we mix them add some water and boil it for some time.
Take it in a bowl ,add some salt or pepper as per taste, if required.
so the soup is ready , have it hot with a ting of lemon juice to it.
Serve it hot and to relish it.
Moringa leaves are Immunity Booster , so better we have it in our daily diet.
We can have it in any form either soups or curries to buildup our immune system.
And the next recipe is Moringa Laves Tea.
We don't prefer having soups , you can have Tea early mornings.
We can improve our immunity system.
Moringa leaves is also high in iron.
Method for Preparing Moringa Leaves Tea -
Take a cup of water in a pan, add thoroughly washed Moringa Leaves.
I have added 1/4 cup of leaves to the water.
Bring to oil till the water becomes 1/4 of what we added.
The Leaves add to flavor when boiled.
so will add 3 to Basil/ Tulasi Leaves to it , when boiling.
I have also added 3 to 4 mint leaves to it.
Basil and Mint leaves adds flavor to it.
Strain it in a cup add a spoon of Honey or sugar whatever you wish to.
Mix it and have it when its warm.
we can also add a ting of lemon juice to it.
so tasty and tangy Moringa Tea is ready to relish.
Subscribe to our YouTube Channel Hyderabadi Ruchulu for more latest and interesting cooking videos in Telugu