Palakura Vadiyalu Preparation in Telugu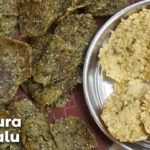 palakura vadiyalu Recipe | Spinach vadiyalu | How to make vadiyalu With Rice
Steps to make Preparation of palakura vadiyalu Recipe in Telugu
Keyword:
palakura vadiyaluRecipe
Ingredients
1

cup

 Rice

2

bunches

Spinach

3

tsp

Sesame seeds

1

tsp

Cumin seeds

4

pcs

Green Chillies

Salt
Recipe Notes
Recipe For Palak or Spinach Fryums or Papads.
Today, lets see how to make spinach papads at home from scratch.
Method for preparing –
1. Take a cup of rice. Any variety of rice can be used.
2. Wash it and keep it aside for a while.
3. Take two bunches of spinach, wash it and chop it into small pieces.
4. Boil 3 cups of water in a pan.
5. When the water starts to boil, add rice and spinach pieces to it.
6. Then we need to add 3 to 4 finely chopped green chillies.
7.We can also add red chillies if you want to.
8. Add one tablespoon of salt to the mixture or according to your taste.
9. Mix them properly.
10. Place a lid and cook it on a high flame till water is lessened.
11. When rice is cooked and left with very less amount of water, turn down the flame.
12. Cook it for 10 more minutes on low flame.
13. Switch off the stove, mix 3 teaspoons of til or seasame seeds.
14. Then mix 1 teaspoon of cumin seeds to the cooked rice.
15. Mix all the ingredients and let it cool for a while.
16. It's better to add less salt when we cook spinach generally.
17. Now we need to take cooked rice and make it into a small ball.
18. Then we should pat them like a papad.
19. We can pat them on cotton cloth, plastic sheet ot silver foil.
20. Pat the rice balls into thin, fine and flat papads.
21. Let them dry in sunlight for 2 to 3 days.
22. If not in sunlight, we can also dry them under the fan.
23. If we dry under the fan, they usually take more time to dry.
25. Papads or fryums dried on cotton cloth may not peel off easily.
26. Slightly wet them on the other side and peel them for storing.
27. This is how they look after papads are thourghly dried.
28. Store them in an air tight container.
29. Now I am going to fry them and taste the fryums or papads.
30. Heat oil in a pan and deep fry them.
You can see fluffy and crispy fryums are ready to eat.
A great, healthy and tasty snack for children.
We can eat it with our meals too.
Subscribe to our YouTube Channel Hyderabadi Ruchulu for more latest and interesting cooking videos in Telugu