Paneer Green Masala
Everybody likes Panner,  Now lets try Paneer Green Masala and here is the simple and easy step by step procedure  to make it . For more Vegetarian Recipes  follow our website Hyderabadi Ruchulu.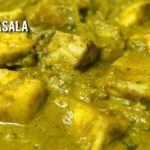 Paneer Green Masala Recipe | Paneer and Tomato Green Curry Recipe
Preparation of Paneer Green Masala Gravy Recipe
Ingredients
300

grms

 Paneer

4-5

pcs

Green Chillies

1

pc

Onions

1

pc

Tomato

Whole Garam Masala

4-5

pcs

Garlic Cloves

4-5

pcs

Ginger

1/2

tsp

Chilli Powder

1

tsp

Salt

1/2

tsp

Coriander Seeds Powder

1/4

tsp

Cumin Seeds Powder

1/4

tsp

Turmeric Powder

1/4

cup

Mint Leaves

Coriander Leaves

1

tsp

Kasuri Methi (Dried Mint Leaves)

1/2

cup

Curd (yogurt)
Recipe Notes
PANEER GREEN MASALA
Today let's see a different type of paneer curry – Paneer Green Masala
Paneer green masala is a very tasty dish and also very easy to cook
Here I took 300 grams paneer. Chop into pieces of desired size
These paneer pieces could be used as it is or fried a little
Here I fried them
Heat 2 teaspoons oil in pan and fry the paneer pieces in it till they turn brown
Then move them into a plate
For the curry, let's prepare green masala first
Heat 1 teaspoon oil in pan
Add whole garam masala – 3 cardamoms, 5 cloves, 3-4 cinnamon stick pieces and fry for a minute
Then add 1 diced onion and fry for a minute or two
Add 4-5 garlic cloves, 4-5 small ginger pieces, 4 green chillies, 1 diced tomato and cook for 2-3 minutes
Add 1/4 cup mint leaves, coriander leaves and cut off the stove
Let these ingredients cool down a little and put them in a mixie jar
Grind them into a soft paste by adding a little water
Masala is ready now. Let's prepare the curry
Heat 1 tablespoon oil in pan
Add 1 diced green chilli and prepared green masala
Fry for 2-3 minutes
Add 1/2 teaspoon chilli powder, 1 teaspoon salt, 1/2 teaspoon coriander seeds powder, 1/4 teaspoon cumin seeds powder and cook
Mix and add 1/2 cup curd
Mix and add 1/2 teaspoon turmeric powder
Add some water for gravy and add 1 teaspoon crushed kasuri methi (dried mint leaves)
Mint leaves instead of kasuri methi (dried mint leaves) could be used
Now add the paneer pieces and mix
Cook for 5 minutes on low flame
Serve hot with rice or roti!
For more home cooking  Vegetarian Recipes  , follow our YouTube channel Hyderabadi Ruchulu