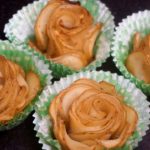 Potato Roses
Potato Roses Preparation at Home without Oven. Aloo Recipe is one of the Kids Favorite Food. Potato Snack is looking like a Beautiful Roses.
Ingredients
3

Potato

1/2

tsp

Olive oil

1/2

tsp

Chat Masala

1/4

tsp

Pepper Powder

1/2

tsp

Chilli Powder

Salt

Garlic Cloves
Recipe Notes
Tasty Potato Roses
This Aloo Snack is looking like a Beautiful Potato Roses. One of the Kids Snack Recipes. Potato Roses Preparation at Home without oven. We are Using a Regular pan.
How to Make Potato Roses without Oven
Preparation of Aloo Snacks in Telugu
Here I Used 3 Potatoes, wash them thoroughly.
You can peel the skin off if you want.
Now cut thin Slices of these Potatoes.
Here I used a peeler, Knife also can be used.
Cut thin round slices and add them into a mixing Bowl.
Add ½ teaspoon of Olive oil (you can use any other oil or butter can also be used).
Mix it well.
Then add ½ teaspoon of chat masala and ¼ teaspoon of pepper powder.
Add ½ teaspoon of Chilli Powder, salt and mix it well.
Now add Chopped Garlic Cloves.
Making of Make Potato Roses at Home
To Make the Roses, we will need cake molds or Normal steel bowls can also be used.
Here I'm using cake liner.
If Cake liners are not available, Spread oil on the base of the bowl.
Arrange the chips one by one and roll them.
So that it looks like a Rose.
Now place this Rose in the Cake Mold.
Let's bake these roses now.
Take a pan with thick base. Pressure Cooker also could be used.
Place a Stand on the Base and Put the Cake Molds over it.
Close lid and Cook on Medium flame.
Bake for 35-40 minutes.
Then can be baked in an oven also.
We can see that the Aloo Roses have Cooked nicely.
Carefully Remove the molds from the Pan.
Tasty Potato Roses are Ready to Serve.
Serve them after they cool down.
Subscribe to our YouTube Channel Hyderabadi Ruchulu for more latest and interesting cooking videos in Telugu