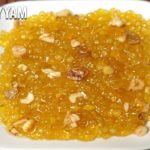 Saggubiyyam Kesari Recipe
Delicious and Simple Saggubiyyam Kesari Recipe Preparation in Telugu. Easy Homemade Preparation of Sago Kesari. One of the Special Occasion Sweets.
Course:
Festival Special Sweets, Sweets
Keyword:
Saggubiyyam Kesari, Sago Kesari Recipe
Ingredients
1

cup

Sago

1/2

cup

Sugar

1/2

tsp

Cardamom Powder

Dry Fruits
Recipe Notes
Saggubiyyam Kesari Recipe Preparation
Tasty and Delicious Homemade Kesari with Sago Preparation in Telugu. Simple Saggubiyyam Kesari for Any Special Occasion.
How to Make Sago Kesari Sweet in Telugu
Preparation of Tasty Kesari with Saggubiyyam
Here I took 1 cup sago for this recipe
To a mixing bowl, add the sago and wash it twice with water
Then, soak it for 1-2 hours in very little water
Here I soaked them for 2 hours
Wash then again twice
Add these to a pan and add water till the sago is completely immersed in water
We need to boil the sago now
Since the sago is already soaked, it won't take long for them to cook
They will cook in 6-7 minutes
We can see that the sago has become transparent and cooked completely
Drain off all the water
Delicious Saggubiyyam Kesari Preparation at Home
Heat clarified butter in pan
Add the soaked sago and cook for 5-6 minutes
Add more clarified butter and cook
Now add 1/2 cup sugar and mix
We can see that the sugar has melted and the consistency became loose again
Cook till the sago mixture thickens
Add a pinch of food colour (optional), 1/2 teaspoon cardamom powder and mix
Cardamom powder is 5-6 cardamoms powdered along with 1/2 teaspoon sugar
Add more clarified butter if desired
Sago kesari is almost ready now
Garnish with dry fruits
Here I fried some chopped dry fruits
Add these to the sago kesari and serve hot!
Subscribe to our YouTube Channel Hyderabadi Ruchulu for more latest and interesting cooking videos in Telugu