Homemade Salt Roasted Corn Recipe in Telugu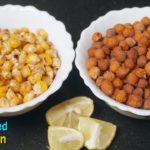 Salt Roasted Corn | Salt Roasted Chickpeas Preparation
How to make Salt Roasted Corn Recipe at Home in Telugu
Keyword:
Salt Roasted Corn
Ingredients
1

cup

Sweet Corn      

1/2

cup

Chick Peas 

1/4

kg

Salt    
Chaat Masala        

1/2

tsp

Lime juice
Recipe Notes
Our recipe is Salt roasted Chick Peas and Sweet corn. A simple recipe can be prepared instantly. Healthy and tasty too.
Salt Roasted Chick Peas Method of Preparation
Here I have taken 1 cup of Sweet Corn, prior we roast it make sure they are dry.

They should not be wet or moistened as they absorb more salt.

Now, we should use soaked Chick peas for roasting.

Chick peas should be soaked minimum 3 to 4 hours, its better if they are soaked overnight.

Here I am using chick peas soaked overnight.

I have soaked ½ a cup of them, but they have become a cup full as they have expanded when soaked.

Before we roast them, pat dry the soaked chick peas.

Firstly take a pan with ¼ kg of salt and heat for a while.

Now will put the chick peas and roast them thoroughly stirring them constantly.

Roast them till the colour changes, we can even taste one and check if they are cooked or roasted properly.

Sieve the roasted chick peas to take off the salt, just clean them with kitchen cloth to take off excess salt.

Roasted chick peas are ready, add some Chaat masala and a ting of lime juice and have it.

The same way will roast the sweet corn now.

We can use the same salt used for chick peas, on low and medium flame.

Keep stirring them constantly, till they are roasted thoroughly, put off the stove.

Now will sieve the roasted sweet corn the same way, as we sieved the chick peas.

Just rub them off on a kitchen cloth to remove excess salt.

Now add some Chaat masala with a ting of lime juice and relish.
Simple and easy recipe , its relishing and healthy too .
Subscribe to our YouTube Channel Hyderabadi Ruchulu for more latest and interesting cooking videos in Telugu