Shikampuri Mutton Kebab Recipe in Hyderabadi Style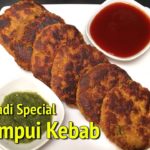 Shikampuri Kebab Recipe | Mutton Kabab Recipe |Special Shikampui Kabab Recipe
Home Made Shikampuri Kabab Recipe. Steps to Prepare Instant Kabab Recipe
Keyword:
Shikampui Kabab Recipe
Ingredients
1/2

kg

Boneless Mutton

1/2

cup

Bengal Gram

2

pcs

Onions

3

pcs

Green Chilli Paste

2

pcs

Tomatoes

1/2

cup

Mint Leaves

1/2

cup

Coriander Leaves

1/2

tsp

Salt

1/2

tsp

Turmeric Powder

Ginger Garlic Paste

1 1/2

tsp

Coriander Seeds Powder

2

tsp

Chilli Powder

Whole Gram Masala

Chopped Onions

Chopped mint leaves

Chopped Coriander Leaves

Chopped Green Chillies

1/2

pc

Lemon
Recipe Notes
Shikampuri Kebab Recipe
Hyderabadi Mutton Shikampuri Kebab is a wonderful appetiser cum side dish that enhances your dinner experience and make you crave for more and more. Shikampuri Kebab can be made with chicken and meat. But the most important technique that makes Shikampuri different from Kebab lies in its stuffing.  It is an ideal party snack option which can be served with various dips, or even a great starter to party at home with family and friends.
Serve the Hyderabadi Mutton Shikampuri Kebab Recipe along with dips like  Pudina Chutney Recipe (Green Chutney) or Home Made Tomato Sauce and other appetisers..
1. Let' see how to make Shikampuri Kabab easily at home.
a. To a cooker, add 1/2 kg mutton.
b. Add 1/2 cup washed Bengal Gram, pieces of 2 tomatoes, 1/2 cup mint leaves, 1/2 cup coriander leaves, ginger pieces, garlic or ginger garlic paste, diced onion, 1/2 teaspoon shahjeera, 7-8 peppers, 3 cardamoms, 3-4 cinnamon stick pieces, 6 cloves, 2 bay leaves, 4 dried chillies, 1/2 teaspoon turmeric powder, 1 1/2 teaspoon coriander seeds powder, 2 teaspoons chilli powder, 1 1/2 teaspoon salt or salt to taste, 3 chopped green chillies and 2 tablespoons oil
c. Mix them properly.
d. Add 1 cup water
e. Cook for 15-20 minutes with whistle on medium flame or cook for 7-8 whistles.
f. After the cooker cools down, open the lid
g. Cook on high flame till the water boils away.
h. Cut off the stove
i. Let it cool down.
j. Grind the mutton mixture into a soft paste.
2.Let's prepare filling now.
a. To a bowl, add chopped onions, chopped mint leaves, chopped coriander leaves, chopped green chillies, juice of 1/2 lemon, a pinch of salt
b. Mix.
c. Spread oil on palms.
d. Take a small amount of mutton mixture, roll it into a bowl and press it.
e. Add 1 teaspoon filling on it, cover it off with mutton mixture and press it.
f. Heat 2-3 teaspoons oil in pan.
g. Place kebabs one by one on the pan.
h. Cook on low flame.
i. Cook for 5 minutes and flip carefully.
j. Fry till the kebabs turn brown.
Serve hot with Tomato Sauce and Pudina Chutney
.
Subscribe to our YouTube Channel Hyderabadi Ruchulu for more latest and interesting cooking videos in Telugu
Also Check :