Star Bellam Paramannam Rice Recipe Preparation in Telugu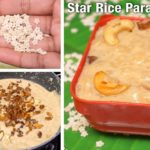 Star Rice Paramannam Recipe | Jaggery Paramannam Recipe in telugu
How to make Bellam Payasam Recipe With Jaggery
Ingredients
1/2

cup

Star Rice

3/4

cup

Jaggery

2 1/2

cup

Milk

Coconut Pieces

Dry Fruits
Recipe Notes
STAR RICE PARAMANNAM
Star rice is nothing but star shaped rice
This rice is similar to sago rice.
Star rice paramannam is very tasty and also easy to make
Here I'll be using jaggery to make this paramannam
Coconut also adds to the flavour of the dish
Here I used 1/2 cup star rice
For 1/2 cup star rice, I used 3/4 cup jaggery
Sugar instead of jaggery also could be used
Any dry fruits like cashewnuts, almonds, raisens could be used
Add star rice to a bowl
Wash and add 2 cups water to the bowl
Cook till the rice boils
Stir and cook the rice
Let's fry dry fruits in the mean time
Heat 1 tablespoon clarified butter in pan
Add cashewnuts, almonds, raisens and fry
Fry till they change colour and move them into a plate
To the same pan, add coconut pieces and fry on low flame till they turn brown
Move them into a plate
Heat 2 cups milk in pan
Rice is cooked now
If the rice still seems uncooked, add some more water and boil it
Add this bulged up rice to boiling milk
Stir and cook so that the base doesn't burn
We can see that the rice is compleetely cooked now
To a bowl, add 1 tablespoon corn flour. Add water and mix
Add this corn flour mixture to the milk. This will give a nice thick consistency to the dish
Stir for a minute and add jaggery
Here I added 3/4 cup jaggery to 1/2 cup star rice
Cook on low flame till jaggery melts
Now add 2 tablespoons clarified butter and mix
Then add 1/2 teaspoon cardamom powder and mix
Here I added 2 tablespoons sugar. This step is optional
Cut off the stove. This paramannam will become thicker after it cools down a little
If the cositency becomes too thick, add some milk
Add the fried dry fruits and coconut
Star rice paramannam is ready to serve!
Subscribe to our YouTube Channel Hyderabadi Ruchulu for more latest and interesting cooking videos in Telugu. Please Follow Our Facebook Page for more updates.
Also Check :
Sweet Carrot Rolls Recipe Preparation