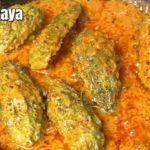 Stuffed Bitter Gourd Recipe
Healthy Stuffed Bitter Gourd Recipe Preparation in Telugu. Simple and Tasty Homemade Gutti Kakarakaya. Easy Preparation of Kakarakaya Recipes.
Ingredients
1/4

kg

Bitter gourd

3 to 4

tbsp

Groundnuts

7 to 8

Dried Chillies

1

tsp

Cumin Seeds

2

tbsp

Coriander Seeds

5 to 6

Garlic Cloves

4 to 5

gms

Tamarind

1

Onions

1

tsp

Mustard Seeds

1/2

tsp

Turmeric Powder

Salt
Recipe Notes
Stuffed Bitter Gourd Recipe Preparation
Tasty and Healthy Bitter Gourd Recipe Preparation at Home. Simple and Easy Stuffed Bitter Gourd Recipe in Telugu. 
Preparation of New Bitter gourd recipe
Today let's see how to make stuffed bitter gourd
Here I took 1/4 kg bitter gourds
We don't need to peel the bitter gourd, just cut off the ends and make cuts vertically
Make sure that the ends stay connected. Just make cuts along it
To a bowl of water, add 1/2 teaspoon salt and add the bitter gourds to it
Close lid and boil for 5-6 minutes
This will remove the bitterness from the bitter gourds
Any other method to remove bitterness could be used
Let's prepare stuffing now
Bitter Gourd Stuffing Preparation
We will need 3-4 tablespoons groundnuts and 7-8 dried chillies along with 1 teaspoon cumin seeds, 2 tablespoons coriander seeds and very little tamarind
Wash the tamarind
Heat 3-4 tablespoons groundnuts in pan
Then add dried chillies and fry till they change colour
Then add 1 teaspoon cumin seeds, 2 tablespoons coriander seeds and fry
Cut off the stove and let them cook down
Add this to a mixie jar along with 5-6 garlic cloves, salt to taste and grind it into a soft powder
Now add chopped onions to this powder
Stuffing is ready now
Preparation of Stuffed Bitter Gourd Recipe in Telugu
We can see that the boiled bitter gourds have cooled down
Remove the seeds from them
Lets stuff these bitter gourds
Fill the bitter gourds with prepared stuffing
Any leftover stuffing could be used in the curry
Heat 2 tablespoons oil in pan
Add 1 teaspoon mustard seeds and fry
Add 1 chopped onion and fry
Then add 1/2 teaspoon salt and mix
As onions turn transparent, add 1/2 teaspoon turmeric powder and mix
Now place the stuffed bitter gourd and close lid
Cook for 2-3 minutes and sprinkle the rest of the stuffing powder over it
Then add a little tamarind juice, water as required and cook on low flame for 10-15 minutes
Stir and cook the bitter gourds
Cook till the gravy thickens and oil starts to float on surface
Stuffed bitter gourd is ready to serve!
Subscribe to our YouTube Channel Hyderabadi Ruchulu for more latest and interesting cooking videos in Telugu