Tandoori Chai Preparation At Home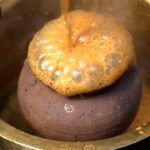 Tandoori Tea Recipe | Tandoori Chai Recipe | Pune Special Tandoori Tea
Preparation of Punjabi Style Tandoori Chai Recipe. Home Made Tandoori Tea
Ingredients
Milk

1

cup

Water

1 1/2

tsp

Tea Powder

3

tsp

Sugar

Ginger

Cardamoms
Recipe Notes
TANDOORI TEA
Today, let's see how to make Pune's special tandoori tea
This tea is very tasty and easy to make
To make tandoori tea, we will need an earthen pot like this one
Usually, this pot is heated up in a tandoori and placed in the tea which will make the tea smokey
Let's make the tea first
The tea can be made like a regular tea.
Here I took 1 cup water.
Add 1 1/2 teaspoon tea powder, 3 teaspoons sugar, coarsely ground ginger, 2 powdered cardamoms and boil
Simmer for 5-6 minutes
Add 2 cups milk and simmer it again
Now, strain this tea
Heat the clay pot now
Usually this clay pot is heated in a tandoori, but since we don't have it at home, here I'm heating it on a normal stove
Heat the clay pot over the stove on all sides
Also invert the pot and heat the insides of the pot
The pot could be simultaneously heated with the tea
We can see that pot has heated up nicely. It has also changed colour.
Place this pot in a bowl
Pour the prepared tea into the clay pot
Serve the hot tea!
Subscribe to our YouTube Channel Hyderabadi Ruchulu for more latest and interesting cooking videos in Telugu
Also Check: