Boti Fry Recipe | Mutton Boti Fry in Telugu | Lamb Intestine Recipe Preparation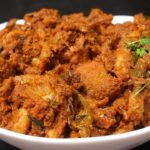 Boti Fry Recipe
Simple Preparation of Boti Fry Recipe at Home. Tasty Lamb Intestine Recipe Preparation in Telugu. Boti Fry is the Telangana Special Recipe.
Ingredients
1/4

kg

Goat Intestines

Onions

Green Chillies

Whole Garam Masala

Garlic Cloves

Turmeric Powder

Coriander Seeds Powder

Coconut Powder

Cumin Seeds

Curry Leaves

Ginger Garlic Paste

Coriander Leaves

Chilli Powder

Salt
Recipe Notes
Boti Fry Recipe Preparation
Tasty and Simple Boti Recipe at Home. Preparation of Mutton Boti Fry in Telugu. Boti Fry is one of the Telangana Special Recipe.
How to Make Lamb Intestine Recipe
Preparation of Boti Fry at Home
Today lets see how to make boti fry.
Goat intestine fry is a Telangana special recipe.
Goat intestine is very hard to clean
If not cleaned properly, it will start to smell and the curry will spoil
First, let's see how to clean the goat intestines
Here I took 1/2 kg goat intestines
Clean the boti carefully and thoroughly or else it will stink
Take a bowl of hot water and clean the goat intestines in it
You could even boil it for 2-3 minutes before cleaning
Use a knife if it gets tough to clean it with hands
Clean each piece carefully in the hot water
Clean it 2-3 times in hot water and 1-2 times in cold water
It is very important to clean them properly
Lets cook the boti now
We need to boil the goat intestines first before frying
Cook the intestines in pressure cooker for 2-3 whistles
We don't need to add water to this boiled goat intestines since there is already water present in the goat intestines
Lets prepare masala in the mean time
Boti Masala Preparation
To a mixie jar, add 1 chopped onion, 1/2 teaspoon shahjeera, 3 cardamoms, 2 small cinnamon stick pieces, 1 teaspoon cumin seeds, 4 cloves, 5-6 garlic cloves, 2 teaspoons coconut powder, 1 teaspoon coriander seeds powder and grind it into a paste by adding a little water
Boti Masala is ready now.
Mutton Boti Fry Preparation
Goat intestines are cooked now
Heat 2 tablespoons oil in pan
Add 1/2 teaspoon cumin seeds and fry for a minute
Add 1 chopped onion
After onions turn transparent, add 2 diced green chillies, curry leaves and mix
Add 1/2 teaspoon turmeric powder, 1 teaspoon ginger garlic paste and fry for a minute
Add the boiled goat intestines and cook for 2-3 minutes
Close lid and cook
Add prepared masala paste and cook for some time
Close lid and cook
Add 2 teaspoons chilli powder
Add 1 1/2 teaspoon salt or salt to taste and mix
These is no need to add any masala now
Cook on low flame for 7-8 minutes
Sprinkle coriander leaves and cut off the stove
Boti fry is ready to serve!
Subscribe to our YouTube Channel Hyderabadi Ruchulu for more latest and interesting cooking videos in Telugu