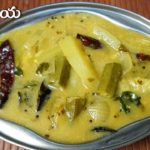 Chintakaya Dappalam Recipe
Easy and Simple Preparation of Chintakaya Dappalam. Tasty Homemade Tamarind Dappadam Preparation in Telugu. How to Make Raw Tamarind Recipe.
Total Time
1
hour
15
minutes
Ingredients
1/4

kg

Unripe Tamarind

Chopped Vegetables

Onions

Green Chillies

1/2

tsp

Turmeric Powder

1

tsp

Coriander Seeds Powder

1/4

tsp

Cumin-fenugreek Seeds Powder

1

tsp

Salt

Curry Leaves

Coriander Leaves

2

tbsp

Rice Flour
Tempering Ingredients
1

tsp

Mustard Seeds

1

tsp

Cumin Seeds

4-5

Dried Chillies

Curry Leaves
Recipe Notes
Chintakaya Dappalam - Dappadam Preparation at Home
Tasty and Simple Homemade Raw Tamarind Recipe Preparation. Easy preparation of Chintakaya Dappalam in Telugu. Dappadam with Chintakaya Easy Preparation at Home.
How to Make Dappalam with Chintakaya
Preparation of Raw Tamarind Recipe in Telugu
Let's see how to make tamarind dappadam
It is also called dappalam
Here I took 1/4 kg unripe tamarind
For this dappadam, any vegetables of your choice could be used
Here I diced bottle gourd and ladys finger
Dice the onions into bigger pieces than usual
Slice the green chillies
Wash the unripe tamarind 2-3 times
Fill the bowl with water so that tamarind sinks and boil for 5-6 minutes
Poke it with a fork to check if it has cooked
Let the cooked tamarind cool down or pour cool water over it and then squeeze it
Strain this tamarind water into the bowl in which the dappadam will be prepared
Add more water and strain it again
Add the chopped vegetables, onions and green chillies
Then add 1/2 teaspoon turmeric powder, 1 teaspoon coriander seeds powder, 1/4 teaspoon cumin-fenugreek seeds powder, 1 teaspoon salt, green chilli-cumin seed paste, 1/2 cup curry leaves, coriander leaves - 1 teaspoon ginger garlic paste and mix
Boil for 10-15 minutes
Boil till the vegetables cook completely
To a bowl, add 2 tablespoons rice flour
Now add water to make a thick paste
Add this paste to the boiling dappadam and mix
Stir and pour the paste
Simmer for 2 more minutes
If you want the dappadam to be thicker, then add more rice flour paste
Sprinkle some coriander leaves
Lets prepare the tempering now
Tamarind Dappalam Tempering Preparation
Heat oil in a pan
Add 1 teaspoon mustard seeds, 1 teaspoon cumin seeds and fry
Add 4-5 dried chillies and fry till they change colour
Add curry leaves and fry
Add this tempering to the simmering dappadam and mix
Tamarind dappadam is ready to serve!
Subscribe to our YouTube Channel Hyderabadi Ruchulu for more latest and interesting cooking videos in Telugu