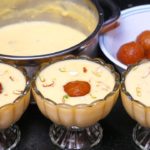 Custard Gulab Jamun Recipe
Preparation of Taste Custard Gulab Jamun at Home. Custard Jamuns is Festivals or Any Special Occasion Sweet. One of the Kids Favorite Recipe.
Ingredients
2

tbsp

Custard Powder

4

tbsp

Sugar

1/2

ltr

Milk

1/4

tsp

Cardamom Powder

Gulab Jamuns

Dry Fruits
Recipe Notes
Custard Gulab Jamun Preparation
Custard Jamun is one of the Best Dessert Recipe. Homemade Custard Gulab Jamun Recipe. Most of the People's Favorite Recipe. Custard Gulab Jamun is a Festival or any Special Occasion Sweet.
How to Make Custard Gulab Jamun at Home
To make this Recipe, we will have to make both Custard and Jamuns Separately.
We have already made a video on how to make Gulab Jamuns.
Check the Homemade Gulab Jamuns Recipe Here
Preparation of Custard Gulab Jamuns in Telugu
Take a mixing bowl, add 2 tablespoons of custard powder.
Add some milk and mix it well.
Prepare like a paste.
Heat the rest of the Milk in a pan.
Simmer on low flame.
Now add 2 tablespoons of the hot milk to the Prepared paste and Mix it well.
Then add this paste to the simmering milk and mix.
Add 1/4 teaspoon of Cardamom Powder.
Now add the Sugar.
Put 1 teaspoon of sugar aside for later.
Mix till Sugar melts Completely.
Cut off the Stove.
Now Sprinkle the leftover sugar on top to prevent the top layer form becoming thick.
Lets the Custard cool down completely and put it in the fridge for atleast 1 hour.
Custard is Ready.
Preparation of Gulab Jamun Recipe
Take Custard in a Serving bowl.
Now add the Gulab Jamuns.
Add Dry Fruits.
Taste and Delicious Custard Jamuns are Ready to Serve.
Subscribe to our YouTube Channel Hyderabadi Ruchulu for more latest and interesting cooking videos in Telugu