Double Ka Meetha Sweet Preparation in Telugu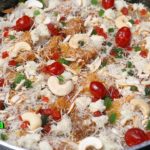 Double Ka Meetha Recipe | Festival Special Dish Double Ka Meetha Recipe
How to Prepare Double Ka Meetha Recipe at Home
Ingredients
10

pcs

Bread Slices

Oil

Ghee

Bread Crumbs

250

ml

Water

750

ml

Milk

1

kg

Sugar

1/2

tsp

Elachi

50

grms

Khoa

Dry Fruits

Vermicelli

Cheeries

Frooties

Kaju

Badham
Recipe Notes
DOUBLE KA MEETA
Let' see how to make double ka meetha at home easily with minimal ingredients
We will get bread for making double ka meeta separately
Normal bread also could be used here
Cut off the brown part of the bread
Slice the bread and cut it into small cubes
We need to deep fry these bread pieces now
Heat oil for deep fry
Fry the bread cubes on medium flame till they turn brown and move them into a plate
To a pan, add 250 ml water along with 750 ml milk
Boil this mixture for 10 minutes till it becomes thick
Now, add 750 mg to 1 kg sugar
Here I used 1 kg sugar
Add sugar and simmer for 2-3 minutes
Add 1/2 teaspoon cardamom powder and mix
I also added a pinch of food colour. This step is optional.
Stir and add the bread pieces
Simmer for 10 minutes on medium flame
Cut off the stove and let it cool for 10-15 minutes
Add khoa and garnish with dry fruits
Here I used 50 grams khoa.
Also I added a bit of thin vermicelli
Thin vermicelli will also absorb excess liquid if the double ka meeta becomes too watery
Add khoa and sprinkle thin vermicelli on top
Garnish with tooti frootis, cherries and dry fruits
Hyderabadi special double ka meeta is ready to serve!
Subscribe to our YouTube Channel Hyderabadi Ruchulu for more latest and interesting cooking videos in Telugu