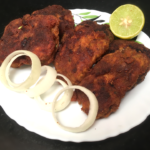 Kolkata Style Fish Fry Recipe
I brought that exact taste and flavour straight from his shop to my kitchen. Try this easy recipe in your kitchen and enjoy !! Kolkata Style Fish Fry is a delicious dish which is liked by people of all age groups. Kolkata Style Fish Fry by Indira ireni has a step by step process of how to make the dish. This makes it very easy to understand for even beginners. This recipe can serve 5 people. You can find Kolkata Style Fish Fry at many restaurants and you can also prepare this at home. This authentic and mouthwatering Kolkata Style Fish Fry takes 75 minutes for the preparation and 20 minutes for cooking. When you want to prepare something delicious for a party or special occasion then Kolkata Style Fish Fry is a good option for you. The flavour of Kolkata Style Fish Fry is tempting and you will enjoy each bite of this. Try this Kolkata Style Fish Fry on weekends and impress your family and friends. You can comment and rate the Kolkata Style Fish Fry recipe on the page below.
Recipe Notes
Fish fillet marinated in a spicy marinade then coated in breadcrumbs and deep fried to perfection Kolkata Style Fish Fry Recipe
INGREDIENTS
1. Boneless Fish
2. Green Chillies
3. Mint Leaves - 1/2 Cup
4. Coriander Leaves - 1/2 Cup
5. Salt - 1 Teaspoon
6. Ginger Garlic Paste - 1 Teaspoon
7. Lemon - 1/2
8. Eggs - 2
9. Bread Crumbs
Making of Kolkata Style Fish Fry : Any type of fish could be used here. Squeeze lemon juice on boneless fish. Add 1/2 teaspoon salt, mix and let it sit for 10 minutes. Let's prepare masala now. To a mixie jar, add mint leaves, coriander leaves, green chillies, ginger garlic paste, salt and grind it into a soft paste. Move this paste into a bowl. Mix marinated boneless fish pieces with the paste. Let it marinate for 1/2 hour at least. Beat 2 eggs in a bowl after adding a pinch of salt. Take bread crumbs in a plate. Dip marinated fish in the egg and roll it in bread crumbs. Fry the fish pieces. Heat 2-3 tablespoons oil in a pan. Fry the fish pieces one by one on low flame. They can be deep fried or shallow fried. Flip after frying for 5-6 minutes. Fry till all the sides turn brown. Serve hot.
This recipe comes from streets of kolkata (west bengal) east side of India where you got this every where in streets. In every summer i use to go to my granny's ...