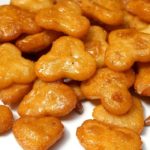 Sooji Sweet Recipe
Tasty and Delicious Sooji Sweet Recipe at Home. Simple and Easy Healthy sweet recipe for Kids. Most of the People's Favorite Recipe.
Ingredients
1

cup

Bombay Rava

2

cups

Milk

1

cup

Sugar

All purpose flour

Cardamom Powder

Oil
Recipe Notes
Sooji Sweet Recipe Preparation
Rava sweet is one of the Traditional indian recipes. We are going to show sooji sweet recipe Simple and Easy, Healthy sweet recipe for kids. It was a very Delicious and Soft. It is one of the kids favourite sweet recipes. Sooji sweet recipe can be stored in 10 to 15 days. It was an Instant Sooji sweet. Most of the People's Favorite Recipe.
How to make Healthy Rava Sweet Recipe
Instant Sooji Sweet Preparation
Take 1 cup of Bombay Rava / Sooji.
Fry Sooji in pan for 2-3 minutes.
Add 2 cups of milk into Bombay Rava / Sooji and Stir continuously so that no lumps are formed.
After the Consistency of the mixture becomes thick.
Add 2 tablespoons of Ghee / butter and mix it well.
Close lid and Cook for 2 mins.
After the 2 minutes, Stir and cut off the stove and let it sit for 10 mins.
After it cools down, mix until dough like consistency is obtained.
Add some Milk if the mixture is too thick.
Now add some all purpose flour if it is necessary.
Add ¼ teaspoon cardamom powder then mix it well.
Take small Amount of dough and Roll it into a ball. Press it into a thick puri.
Then you can cut into any shapes that you like.
How to Make Healthy Sweet Recipe for Kids
It's time to deep fry the small shape dough.
Heat the Oil.
Fry the pieces one by one on low medium flame.
Flip and fry till they turns into brown colour / Gold colour.
Then take it into bowl.
Sugar syrup Preparation
Take 1 cup of sugar into a pan.
Add ½ glass of water into the sugar.
Heat the water in pan along with sugar.
Boil till all the sugar melts.
Thread consistency is Obtained.
Now Add cardamom powder and mix it well.
Add the Prepared pieces in the sugar syrup when it is still Boiling on stove.
Move them into a Different Plate / bowl.
Healthy and Delicious Rava sweet is ready to Serve.
Subscribe to our YouTube Channel Hyderabadi Ruchulu for more latest and interesting cooking videos in Telugu