Strawberry Ice Cream Preparation in Telugu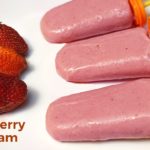 Strawberry Ice Cream Recipe | Home made Strawberry Ice Cream
How to Prepare Fast and Easy Strawberry Ice Cream. Learn to make Delicious Strawberry Ice Cream
Ingredients
5-6

pcs

Strawberries

2

pcs

Bananas

1/4

liter

Milk

2-3

tbsp

Sugar

1/2

tsp

Cardamom Powder

1/2

tsp

Vanilla Essence
Recipe Notes
Let's see how to make strawberry ice cream with fresh fruit
Since we will be making this ice cream with fresh strawberries, it will be very tasty and also very healthy
In this recipe, we will not be using any cream or egg or any condensed milk. This in turn will make the ice cream more healthy
We already made an ice cream recipe that is vanilla flavored. Link will be in the description box.
Firstly, we need to grind the strawberries into a paste
To a different mixie jar, add 2 bananas along with 1/4 Lt milk. If you need more quantity of ice cream, then you need to increase the quantity of both milk and bananas
Add 2 tablespoons sugar, prepared strawberry paste, 1/2 teaspoon cardamom powder, 1/2 teaspoon vanilla essence and grind it into a paste of creamy consistency
Pour this paste into ice cream moulds and freeze for 4-5 hours
Instead of using moulds, normal scoops also could be made out of it
For it to slide out easier, place the food wrap inside the bowl before pouring the mixture
Pour the mixture into and container
Refrigerate for 5-6 hours
Cover the container with a food wrap. This will prevent the layer of ice from forming
Strawberry ice cream is ready
Let the ice cream sit outside for it to slide easily. Or just place it in a bowl of water for a minute
Cut the slice into pieces and serve cold!
Let's take out the moulds now
Place them in a bowl of water for a minute, they will slide out easily
Serve cold!
Subscribe to our YouTube Channel Hyderabadi Ruchulu for more latest and interesting cooking videos in Telugu
Also Check :
Watermelon Ice Cream Preparation