Veg Haleem Preparation Recipe in Telugu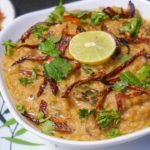 Veg Haleem Preparation in Telugu | Pure Veg Hyderabadi Haleem
Learn How to Prepare Vegetarian Haleem Recipe in Telugu
Total Time
1
hour
45
minutes
Ingredients
1

cup

Meal Maker

1/2

cup

Wheat rava

1

cup

Onions

4-5

Green chillies

1

tbsp

Red gram

1

tbsp

Black gram

1

tbsp

Bengal gram

1

tbsp

Toor dal

1

tbsp

Green gram

1

tbsp

Barley seeds

1

tbsp

Basmathi rice

1

tbsp

Cumin seeds

10-12

Tail peppers

1

tbsp

Shah jeera

4-5

Cinnamon stick pieces

6

Cardamoms

6-7

Cloves

1/2

tbsp

Pepper

2

Star anise

1/2

tbsp

Pepper powder

5

Almonds

5

Cashewnuts

1/2

cup

Mint leaves

1/2

cup

Coriander leaves

1/2

cup

Milk

1/2

cup

Curd
Recipe Notes
Veg Haleem Preparation Recipe in Telugu
How to make Vegetarian Haleem
Today, we will see how to make vegetarian haleem. Veg haleem takes comparatively less time than the mutton/ chicken haleem. Lets see how to make beg haleem easily at home.For this recipe, I used 1 cup meal maker
Soya granules instead of meal maker could be used
Firstly, lets boil them
Heat 2-3 glasses of water in a pan
Add 1/2 teaspoon salt and simmer
Now add the meal maker and boil for 6-7 minutes
Drain off all the water and squeeze off the water from the meal maker
Let it cool down
Next, grind this cooked meal maker coarsely
Lets make the lentils mixture next
To a mixie jar, add 1 tablespoon red gram, 1 tablespoon black gram, 1 tablespoon bengal gram, 1 tablespoon toor dal, 1 tablespoon green gram, 1 tablespoon barley and 1 tablespoon basmathi rice
Sesame seeds also could be added here if desired
Also add 1 teaspoon cumin seeds, 10-12 tail peppers, 1/2 teaspoon shahjeera, 3-4 cinnamon stick pieces, 4 cardamoms, 4-5 cloves, 1/2 teaspoon pepper, 5 almonds, 5 cashewnuts and grind it coarsely
Fry 1 cup onions till they turn brown
We will also need 1/2 cup wheat rava
Soaked and ground wheat also could be used
Pre-preparation for the haleem is done now. Lets start cooking veg haleem
Take a pan with thick base and add 2 tablespoons clarified butter (ghee) and heat it
Add 2 cinnamon stick pieces, 2 star anise pieces, 3 cloves, 2 cardamoms, 1/2 teaspoon shahjeera and fry for minute
Now add 5 green chillies and fry for a minute
Add 1/4 cup brown onions, 1 1/2 teaspoon ginger garlic paste and mix
Then add the ground meal maker and fry till the smell of the meal maker goes away
Now add 1/2 cup wheat rava and mix
Add the prepared lentils mixture and fry for 2-3 minutes
Then add 1/4 cup mint leaves, 1/4 cup coriander leaves and mix
Add 1/2 cup curd and mix
Now add 1 1/2 litre water and cook on low-medium flame
Add 1 1/2 teaspoon salt and cook for 20-25 minutes on low medium flame
Next, add 1/2 cup milk and cook on low flame for 10 minutes
Mash this mixture and add 1/4 cup cup mint leaves, 1/4 cup coriander leaves, 1/4 cup brown onions and mash
Add 2-3 tablespoons and mash
Also add 1/2 teaspoon pepper powder and mash
Mash it and cut-off the stove
Veg haleem is ready
Garnish with mint leaves, coriander leaves, brown onions, cashewnuts and serve hot!
Subscribe to our YouTube Channel Hyderabadi Ruchulu for more latest and interesting cooking videos in Telugu