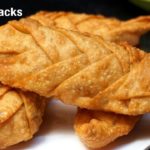 POTATO LEAVES PREPARATION | ALOO SNACKS
Simple Potato leaves Snack Recipe In Telugu. Step By Step Process of Aloo leaves Preparation at Home
Ingredients
1/4

kg

Potatoes

1 1/2

cup

Wheat Flour

1

pcs

Onions

1

tsp

Bengal Gram

1

tsp

Black Gram

1/2

tsp

Mustard Seeds

1/2

tsp

Cumin Seeds

2-3

pcs

Green Chillies

1/2

cup

Curry Leaves

1/2

tsp

Turmeric Powder

1/2

tsp

Ginger Garlic Paste

Salt
Recipe Notes
POTATO LEAVES
Lets see how to make potato leaves. These snacks are made with potatos and are leaf shaped.Lets get started.
Add 1 1/2 cup wheat flour to a mixing bowl
Then add 1/2 teaspoon salt, 1/2 teaspoon crushed ajowan and mix
Add 2-3 teaspoons oil and mix
Add water and knead it into a soft dough
Close lid and let it sit for 15-20 minutes
Now, lets prepare the stuffing for the potato leaves
Boil and dice 1/4 kg potatoes
Heat 1 tablespoon oil in pan
Add 1 teaspoon bengal gram, 1 teaspoon black gram, 1/2 teaspoon mustard seeds, 1/2 teaspoon cumin seeds and mix
Fry till the lentils change colour and then add 1 chopped onion
As the onion turn transparent, add 2-3 green chillies and mix
Also add 1/2 cup curry leaves, 1/2 teaspoon turmeric powder, 1/2 teaspoon ginger garlic paste and mix
Then add 1/2 teaspoon salt and mix
Now add the boiled potatoes and mix
Cook on low flame for a minute and cut off the stove
Stuffing is ready now, lets prepare the leaves
Knead the dough again and take a smalll amout of dough
Roll it into a round ball and press it into a puri
Make cuts on sides as shown leaving space in the centre
Place some stuffing on the prepared puri and spread some water on the base
Water helps the puri stick better
Fold the cut florets over the stuffing making sure that no space is left out between the florets
Spread some water again on the base and fold it
Prepare all potato leaves in the same way
Heat oil for deep fry
Fry the prepared leaves one by one
Flip and fry till they turn golden brown
Potato leaves are ready to serve!
Subscribe to our YouTube Channel Hyderabadi Ruchulu for more latest and interesting cooking videos in Telugu
You Can Also Check : 
Potato Roses Preparation In Telugu